Since 1953, CROM has designed and built over 4,300 prestressed concrete tanks (PCTs) with capacities ranging from 35,000 to over 30,000,000 gallons. CROM adheres to the highest standards of professional engineering and construction including AWWA Standard D110, ACI Report 372, and ACI Code 350. As long-term active and contributing members of both design committees, CROM remains a leader in the water and wastewater industry. All CROM design drawings and calculations are signed and sealed by one of our company's full-time registered professional engineers.
Please Note: All engineering services are performed by CROM, LLC.
Located 25 feet from the Gulf of Mexico, on a U.S Government port, and neighboring a Grand Casino, the "Lighthouse Tank" is a very stout CROM design. This 250,000-gallon water storage tank was designed and constructed to withstand Category 5 Hurricane winds and wave action of 15 feet. The structural, pile-supported, floor is designed to prevent uplift and/or overturning during major Hurricane events. The LED light atop the tank makes this tank a fully functional lighthouse. The flared base of the tank is constructed of reinforced shotcrete, as is the frame around the painted nautical flags- which spell out GULFPORT.
Due to the importance of Critical Infrastructure, CROM developed blast-proof designs and construction techniques to keep water storage infrastructure functional during blast, tornado, and seismic activity.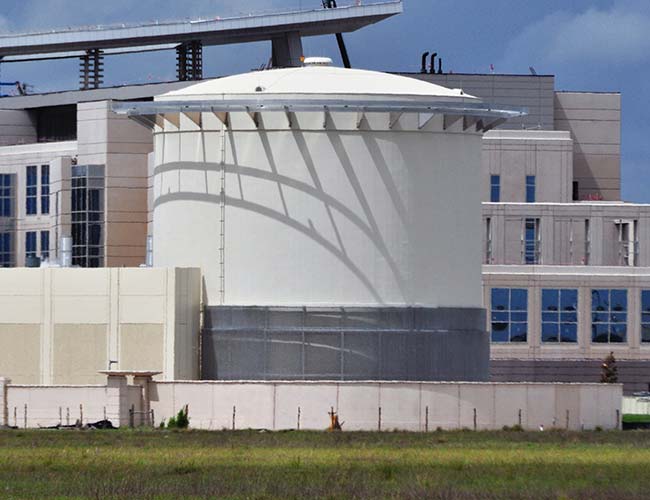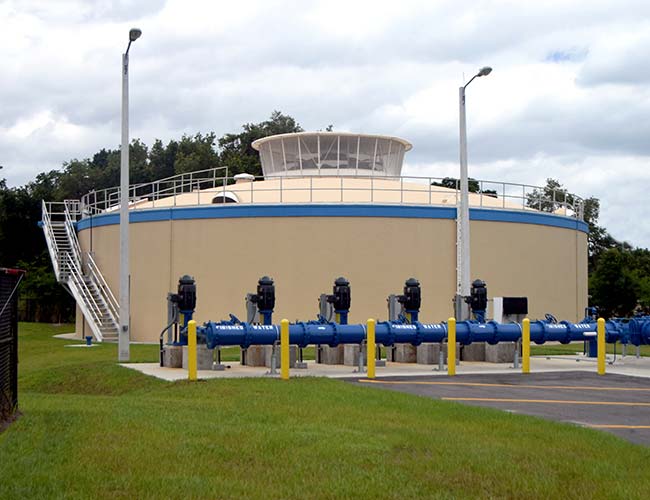 WATER TANKS WITH AERATORS
The installation of a natural draft tray aerator will aid in the removal of many unwanted contaminants. CROM fiberglass aerators are attractive, efficient and constructed with NSF approved materials. For additional protection of the tank interior subject to aggressive contaminants, CROM developed self-washing flat concrete covers and embedded HDPE liners in free-span concrete domes. 
FLOW EQUALIZATION (EQ) STORAGE
Prestressed Concrete EQ tanks are a preferred, cost effective solution to contain large volumes of wastewater for Flow Equalization or Wet Weather Storage. EQ tanks are frequently designed to accommodate peak flow conditions and provide steady inflow to the treatment plant preventing combined sewer overflow (CSO) and sanitary sewer overflow (SSO) events.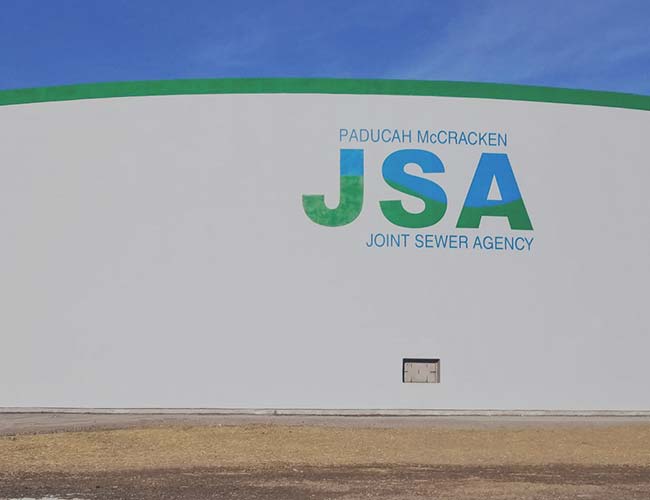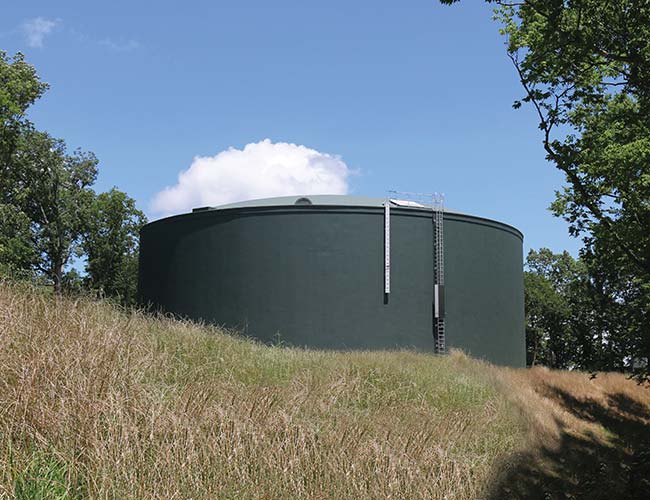 Dedicated fire suppression storage is frequently required for residential, urban, and commercial use, especially in locations where the municipal water supply is inadequate to satisfy design requirements. CROM water storage tanks for fire protection can assure compliance with NFPA, international, federal, state, and local fire codes.
THERMAL ENERGY STORAGE (TES)
CROM provides turn-key services for the design and construction of the PCT and of insulated Thermal Energy Storage Tanks, complete with an internal-patented diffuser system.  The combination of the low maintenance PCT and corrosion resistant internal diffuser system ensures many decades of uninterrupted service and very low life-cycle costs. For decades, clients across the commercial, institutional, and industrial industries have valued the benefits of CROM TES tanks.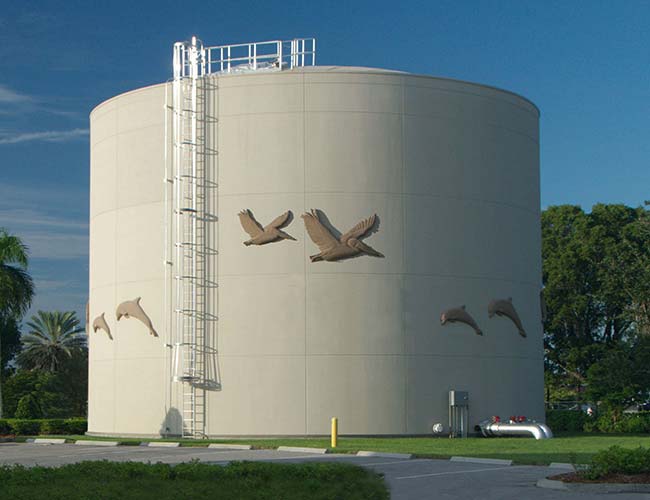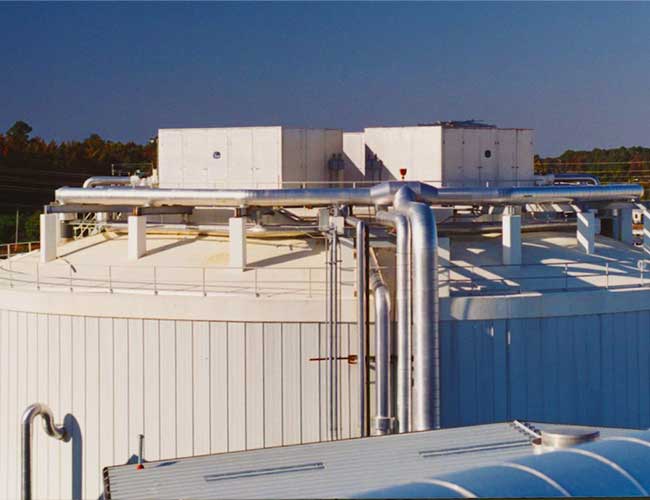 Turbine inlet air chilling (TIAC)
The process of cooling a combustion turbine's inlet air is known as Turbine Inlet Air Chilling (TIAC). Many power generation facilities are comprised of turbines fueled by natural gas. CROM TES TIAC tanks increase efficiency for this type of power production during warm seasons.  Periods of increased demand occur on hot summer days when air conditioning systems are in full use.  Hot ambient air also reduces the efficiency of combustion turbines.  By employing a TIAC system, power producers can eliminate the effects of hot ambient air and increase the output of the generators.  Ultimately, this reduces consumers energy cost.
With over 67 years of experience, CROM understands the complex needs and requirements of wastewater treatment. CROM designs and constructs solutions for all physical infrastructure needs in the wastewater industry.  Prestressed tanks in wastewater treatment plants include equalization tanks, sludge digesters, process water tanks, effluent storage tanks, clarifiers, aeration tanks, sequencing batch reactor (SBR) tanks, bilge storage tanks, and package treatment tanks.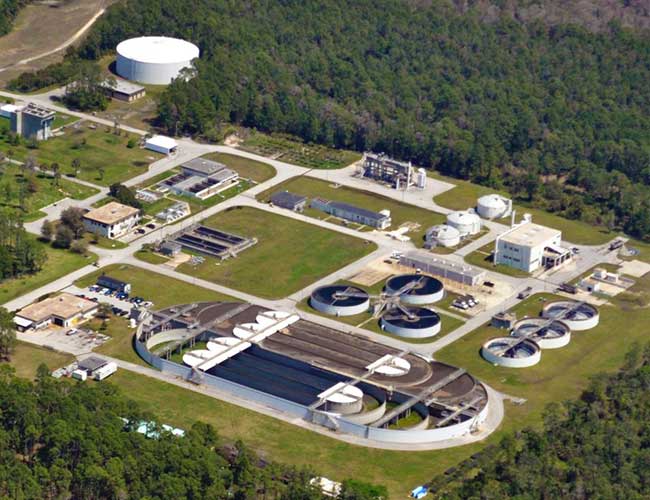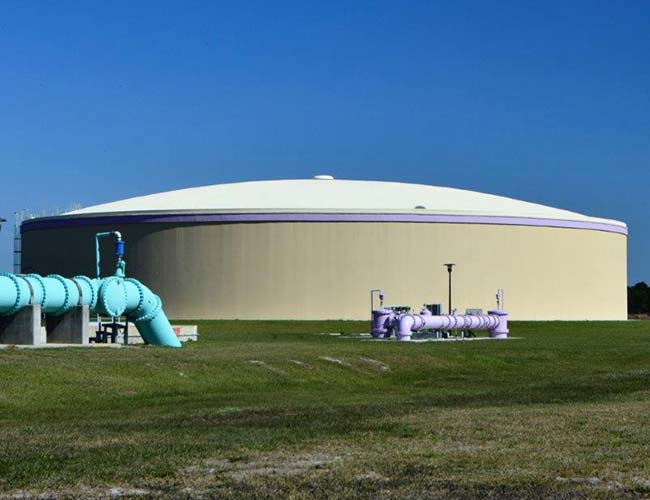 Prestressed concrete tanks can be used for reclaimed or reuse wastewater. These tanks may be located at the treatment plant facility, or on golf courses and agricultural lands where the treated water is used for irrigation purposes. In Florida, recycling water on site or nearby, reduces energy needed to move water long distances or lift it from the aquifer. This water can also be used as make-up water for chillers in high-cooling environments such as data centers. These are cost effective solutions to the water treatment process.
CROM prestressed concrete tanks can be designed to accommodate various types of clarifier mechanisms. Operating on the principle of gravity settling, clarifiers have been used to treat wastewater for decades and provide efficient solutions to process and purify wastewater.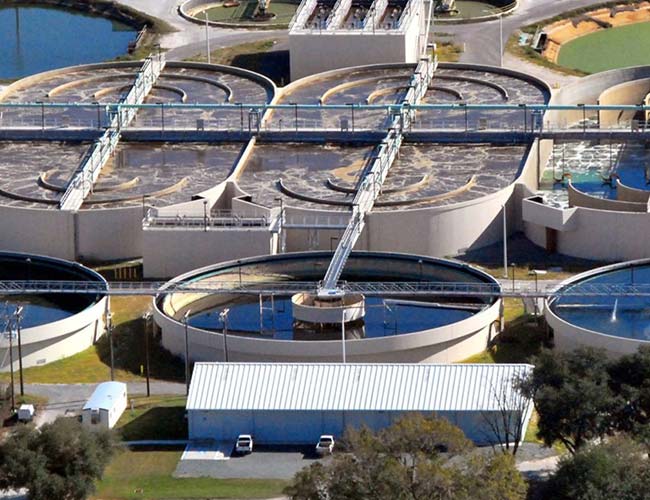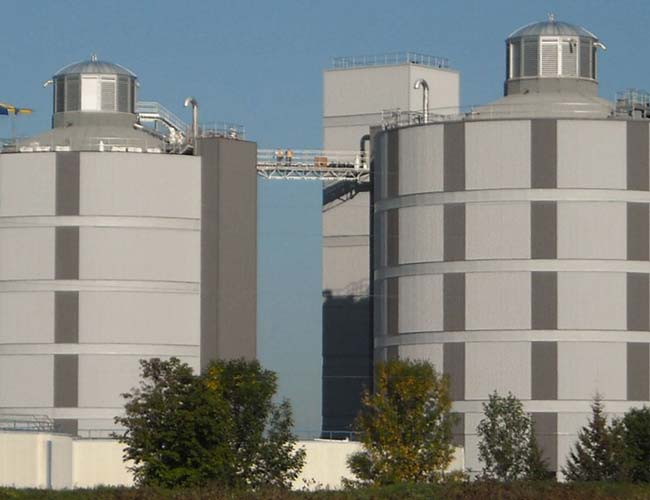 CROM is experienced in the design and construction of digesters in many configurations and sizes, including open-top aerobic digesters and pressurized anaerobic digesters. Prestressed concrete tanks can be designed to accommodate the requirements and demands of sludge digestion and storage. Prestressing wires can be placed to accommodate multiple wall pipe penetrations. Anaerobic digesters may be built with free-span prestressed concrete domes or designed to accommodate fixed or floating steel covers, aluminum domes, or membrane covers. Mesophilic (90 degrees Fahrenheit) and thermophilic (140 degrees Fahrenheit) processes are possible by applying insulation to the exterior of the tanks. CROM has also designed and built several unconventional structures.
MODIFIED EGG-SHAPED DIGESTERS​
A small diameter, high sidewall, steepy sloped floors, and cone-shaped domes are challenges met by CROM Modified Egg-shaped Digesters.  This type of digester minimizes dead zones at the floor/wall and roof/wall intersections, reducing sludge build-up and the resulting down-time for cleaning and maintenance. The construction of these digesters has proven to be much more economical than traditional egg-shaped digesters.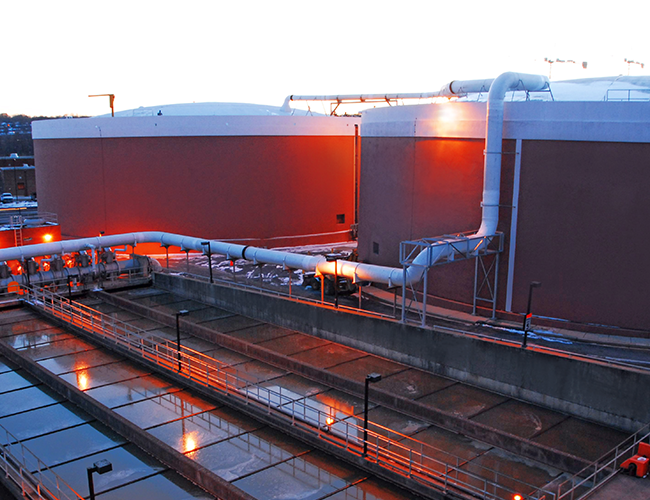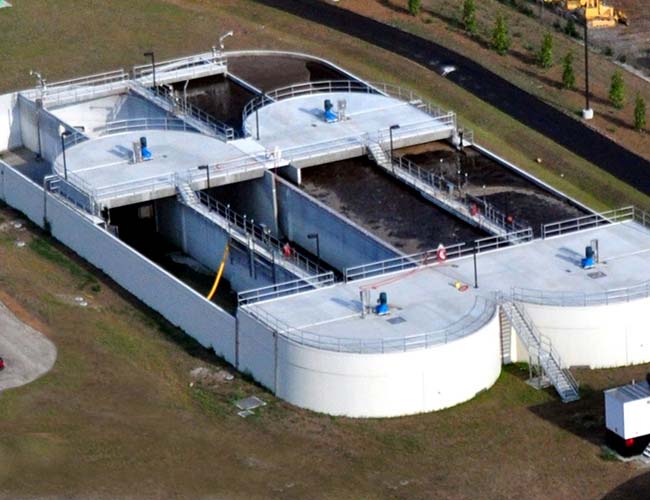 Oxidation ditch treatment systems typically consist of single or multi-channel configurations with ring, oval, or horseshoe-shaped basins. The structures are designed and constructed in accordance with the applicable portions of AWWA Standard D110 using the Type II wall configuration – shotcrete with an embedded steel diaphragm. As a result, these tanks are known for their outstanding concrete crack control, watertightness, appearance, longevity and minimal maintenance requirements.
Sequencing Batch Reactor (SBR)
Sequencing Batch Reactor tanks and Biological Nutrient Removal (BNR) tanks are similar from a tank design standpoint. The AWWA D110 type II walls are modified and reinforced as necessary to provide mounting points for the specialized equipment.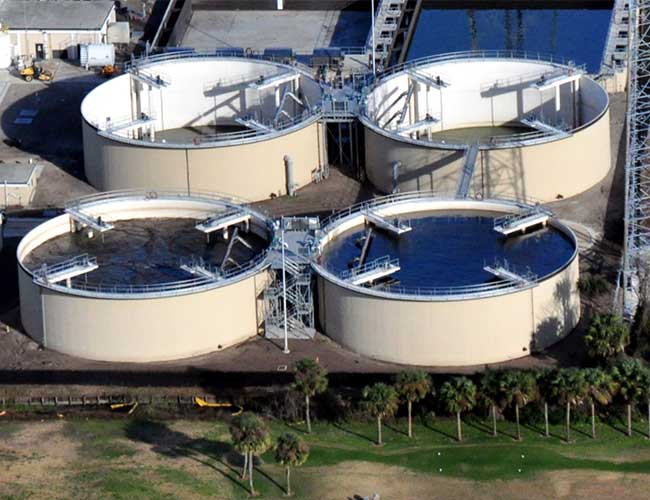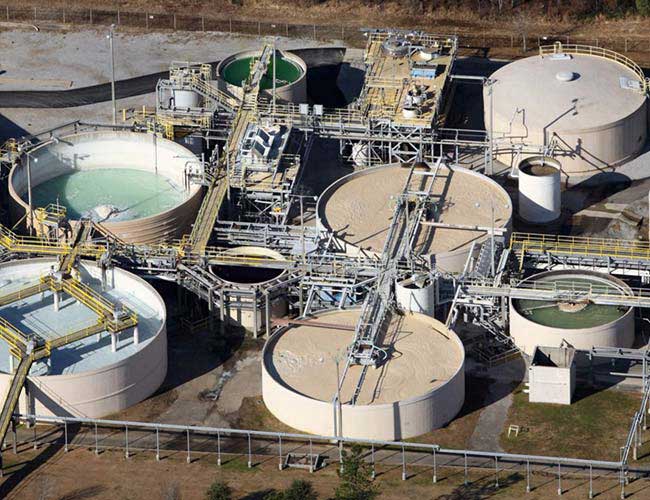 The Unites States Environmental Protection Agency (EPA) has established governing rules to prevent harmful discharges into navigable waters of the US and adjoining shorelines. Secondary containment has proven to provide an essential line of defense in the case of primary containment failure. 
Spent deicing fluid storage
A trend in transportation, especially airports, is establishing well-designed centralized deicing facilities that help process excess glycol in a more sustainable manner. The pre-treatment of spent deicing fluid is important as to not upset the WWTF where the fluid is discharged to.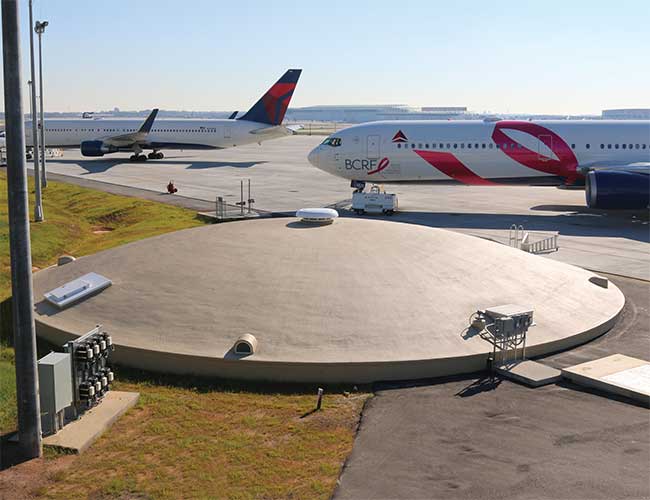 PHASES OF NEW TANK CONSTRUCTION
DETAILS
The floor of the prestressed tank is typically a heavily reinforced concrete membrane slab.  Structural and ballast floor designs are also common depending on site condition requirements.  This view illustrates placement of floor concrete, highly reinforced; a strong foundation.
DETAILS
Galvanized steel shell diaphragm is erected on a system of formwork specially designed for this purpose.  The steel shell extends the full height of the tank to ensure watertightness.  Vertical joints in the steel shell are sealed watertight by epoxy injection.* U.S. Patent No. 5,150,551
DETAILS
Exterior encasement of the steel shell is accomplished with shotcrete, which is pneumatically placed concrete.  The core wall of the tank is constructed using successive layers of shotcrete until the required wall thickness is achieved.
DETAILS
After supporting formwork is removed from the tank interior, shotcrete is applied to encase the diaphragm and complete the interior core wall. 
DETAILS
Vertical reinforcing bars are placed to design requirements and encased in shotcrete.
DETAILS
Dome roof construction is made possible with the aid of a forming system that ensures accurate dome curvature.  The height of the dome rise is commonly 1/10th of the tank diameter, but lower rise domes are possible if desired.
DETAILS
Once the dome formwork is completed with an overlay of sheathing, reinforcement is placed.
DETAILS
The free-span dome roof is constructed of cast-in-place concrete.  This view shows dome concrete being placed by a concrete boom pump.
DETAILS
Both the core wall and the free-span dome roof are circumferentially prestressed using high-strength steel wire wrapped around the tank in a continuous helix.  Wall prestressing is designed to carry the tank's hydraulic load, while dome ring prestressing resists the horizontal forced of roof live and dead loads.
DETAILS
To avoid over-stressing or under-stressing of the tank, the tension in the wire is measured by the use of a direct-reading electronic digital stressometer after it is applied to the tank wall.
DETAILS
In order to provide protection for the prestressing elements, a shotcrete covercoat is applied to the exterior, which permanently bonds the wire to the tank wall.  Whenever two or more layers of prestressing wire are required, a thin coat of shotcrete separates and protects each layer.
DETAILS
The covercoat completes the concrete portion of the tank construction.
DETAILS
The final stage of construction involves installation of accessories and if desired, application of exterior coatings for decorative purposes.
TIME LAPSE OF PRESTRESSED CONCRETE TANK CONSTRUCTION