"Concrete" dates back prior to the Middle Ages to the Roman Empire and was labeled a new and revolutionary material. Despite being a robust construction material, concrete structures can degrade over time from damaging operating conditions or aggressive environmental exposure. The resulting cracking, spalling, or cross-sectional loss pose integrity issues to structures. CROM's design/build approach enables us to create and execute solutions to complex structural issues. 
The restoration of concrete transforms infrastructure back to the original design and is more economical and faster than replacement.  Restoration may include removing damaged or deteriorated concrete, cleaning, replacing exposed rebar, and restoring to original profile.
Headworks Repair & Restoration
Wastewater facilities are under constant attack from biogenic sulfides corrosion. Over time the formation of gases and subsequent conversion to acid cause severe degradation of concrete, metals, coatings and equipment. Restoring the facility to like new condition is typically faster and more economical than replacing the infrastructure.  CROM's design/build approach allows us to add un-paralleled value by creating custom fiberglass diverters and stainless steel gates, hydroblasting, replacement of compromised reinforcing steel, crack repair, resurfacing, custom high performance coatings system, restoration of gates, rehabilitation of connection points to effluent boxes, removal and rehabilitation of weir gates and more.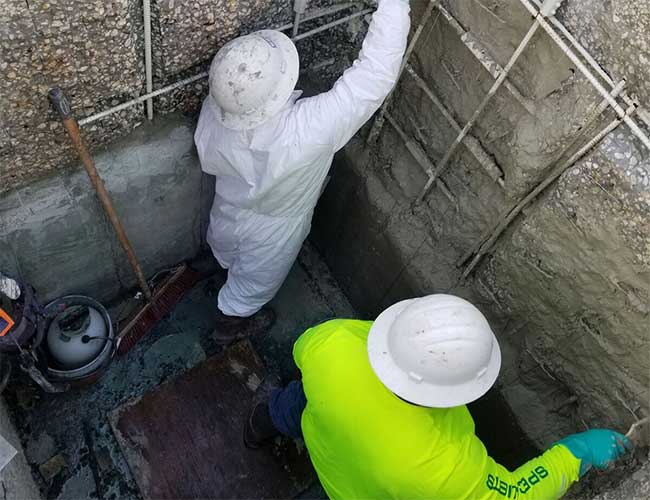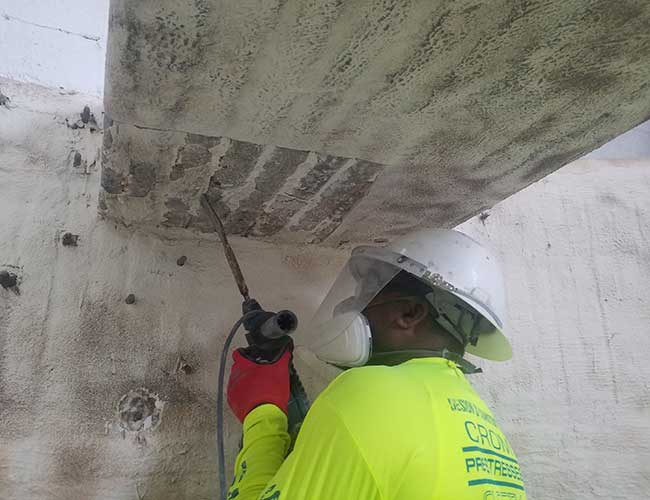 STRUCTURAL Concrete REHABILITATION
Reinforced concrete structures that are well designed and properly constructed prove to be highly durable. However, aggressive environments and severe conditions can pose a threat to the integrity of the concrete, leading to degradation. Exposed reinforcing steel can degrade the integrity of the concrete structure. CROM's design/build approach allows us to add un-paralleled value by addressing the root of the problem and a comprehensive solution.  Solutions often include hand-placed or wet/dry-mix shotcrete for horizontal and vertical overhead repairs and high performance coatings.
Structures where coatings have deteriorated, failed, or the appearance needs an update, are perfect candidates for resurfacing. Resurfacing requires removal of previous coating systems. CROM's certified technicians provide installation of high performance coating systems ranging from water-based acrylic paint to complex epoxy-based heavy industrial coating systems.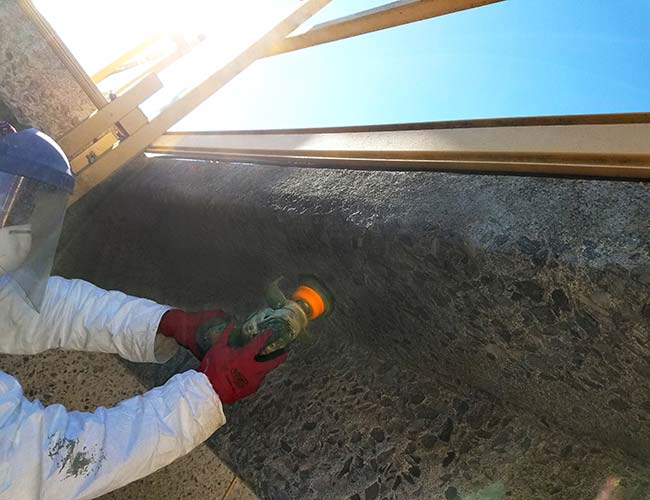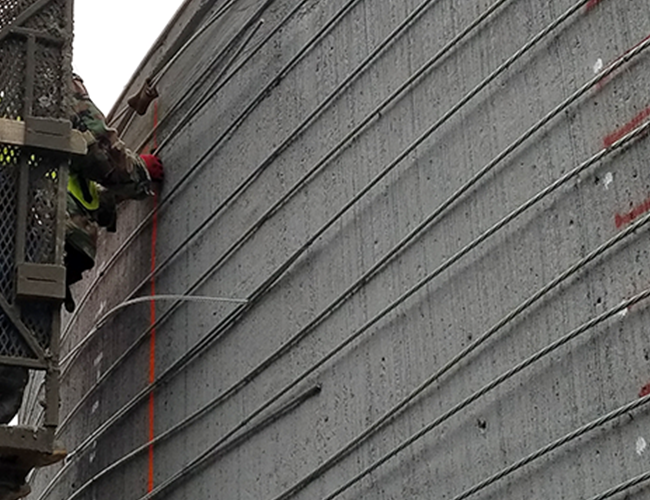 CROM's unique team of engineers and construction specialists are skilled in designing post tensioned solutions for new construction with existing structures immediately.   
When reinforcing loss occurs due to corrosion, structural damage or compensation for loading requirements or conventionally cast-in-place concrete modifications, fiber reinforcement is an efficient and affordable solution. CROM's in-house engineers and certified technicians are trained and approved by system manufacturers for the proper installation of Carbon Fiber Reinforced Polymer (CFRP) and Fiber Reinforced Polymer (FRP) strengthening systems in a wide array of applications including compensation of damaged prestressed wires.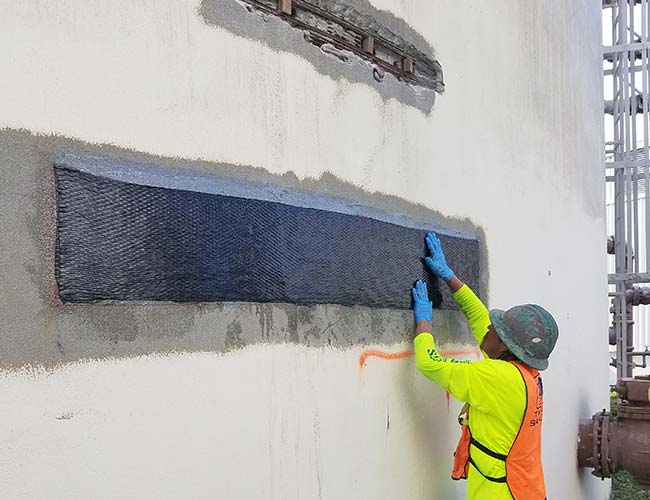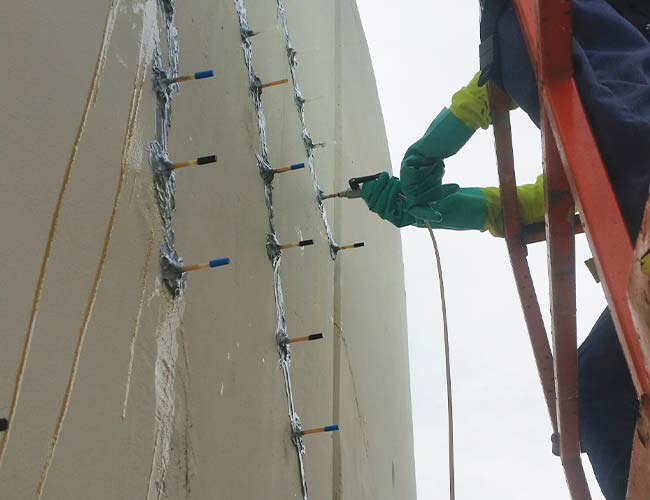 It is widely known that cast in place walls over time develop cracks that need to be addressed to ensure longevity of the structure.  When feasible and economically viable, CROM is qualified to provide methods of restoration.
POLYUrethane crack injection
Concrete structures that are intended to retain water, over time can develop leaks. CROM's in-house engineers and certified technicians are qualified to assess and inspect the source of the leak and properly perform repair by injecting hydrophilic polyurethane resin.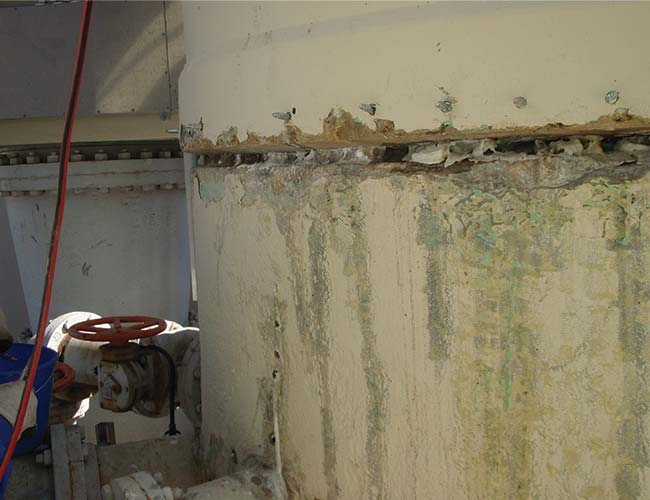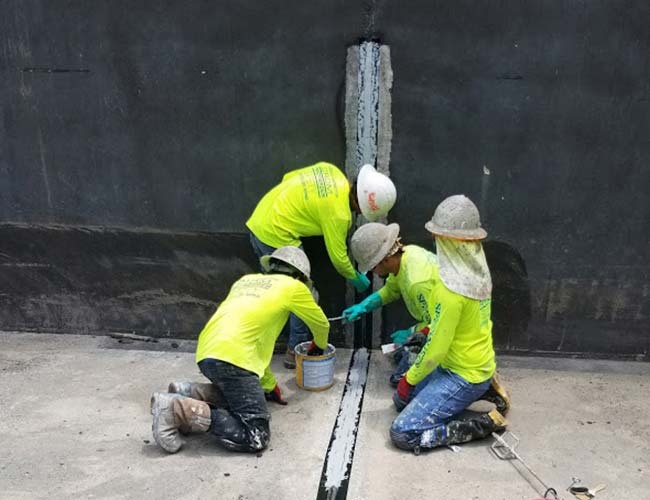 Sealants play a crucial part in keeping a concrete structure air and watertight.  By installing the correct sealant systems properly, serious damage can be prevented. Our in-house engineers and certified technicians offer construction systems, waterproofing, linings, and expansion joint replacement.
Many bridges suffer from concrete corrosion due to freeze thaw damage, exposure to saltwater, or lack of routine maintenance. CROM's structural concrete repairs, shotcrete and concrete restoration, and industrial coatings system applications can rehabilitate these structures to extend their life and continued service.